Mamidala Jagadesh Kumar
Chairman, University Grants Commission and AICTE, New Delhi
and Professor of Electrical Engineering, IIT Delhi 
---
I was born in Mamidala, Nalgonda Dist, Telangana. I obtained my MS(EE) and PhD(EE) degrees from the Dept of Electrical Engineering, Indian Institute of Technology, Madras. My research supervisor at IIT Madras was Prof. K.N.Bhat  (who is a highly respected and popular teacher from whom I learnt the rudiments of Electronic Devices).
From 1991 to 1994, I did my post doctoral research with Prof. David J. Roulston at Department of Electrical and Computer Engineering, University of Waterloo, Waterloo, Ontario, Canada. (Prof. Roulston is a world renowned expert in Bipolar Devices area and widely respected for his contributions as a teacher and researcher. He was also my PhD thesis examiner.)
I am a Professor in the Department of Electrical Engineering at IIT Delhi and currently on lien from IIT Delhi as Chairman, University Grants Commission (UGC) since 07 February 2022. I still teach at IIT Delhi.
I am the 12th the Vice-chancellor (Jan 2016 – Feb 2022) of Jawaharlal Nehru University, New Delhi.  I held the NXP (Philips) Chair Professor established at IIT Delhi by Philips Semiconductors, Netherlands (now NXP Semiconductors India Pvt Ltd). I was Chairman of the Electronics Group in Department of Electrical Engineering (2001-2006). I was the Co-ordinator of VLSI Design, Tools and Technology interdisciplinary program ( Sept 2009-Sept 2011). I was a Chief Investigator of the Nano-scale Research Facility (NRF) at IIT Delhi. I was also a Chief Investigator of the Center of Excellence for Nanodevices and Systems funded by Ministry of Human Resource Development, Government of India.
More than once my teaching (this is my pride and joy) has been rated as outstanding  by the Faculty Appraisal Committee, IIT Delhi. I received the 2013 Award for Excellence in Teaching  (in large class category) from IIT Delhi. I welcome you to see some comments from my students CLICK HERE. To see the most recent feedback from my students, please Click here. To read my reflections on teaching a large class, CLICK HERE.
I work in the area of Nanoelectronic Devices, Nanoscale Device modeling and simulation, Innovative Device Design and Power semiconductor devices. I have published extensively in the above areas with four book chapters and more than 200 publications in refereed journals and conferences (List of Publications) .   Several patent applications have been filed based on our research. A number of my undergraduate students and M.Tech students are co-authors of my international publications. My work has been cited widely by researchers in journals and books (Citations) .  I have co-authored three books together with my research students:
(1) Fundamentals of Tunnel Field Effect Transistors, CRC Press (Taylor & Francis), November 2016,
(2) Tunnel Field-effect Transistors (TFET): Modelling and Simulation Wiley, UK, November 2016 and (
3) Junctionless Field-Effect Transistors: Design, Modeling and Simulation, Wiley-IEEE Press, USA, February, 2019.
I am on the Editorial Board of Scientific Reports. I am an Editor of IEEE Journal of the Electron Devices Society published by the Institute of Electrical and Electronics Engineers (IEEE), USA. From 2006 to 2015, I served as an Editor of   IEEE Transactions on Electron Devices published by IEEE, USA. I am the Editor-in-Chief of IETE Technical Review. 
I am a Fellow of Indian National Academy of Engineering, The National Academy of Sciences, India,  and The Institution of Electronics and Telecommunication Engineers, India. I have been awarded the 29th IETE Ram Lal Wadhwa Gold Medal for distinguished contribution in the field of Semiconductor device design and modeling (31 October 2006). I have received the first ever ISA-VSI TechnoMentor Award  given by the India Electronics & Semiconductor Association to recognize a distinguished Indian academician and researcher for playing a significant role as a mentor and researcher. The award, presented on 31 July 2007 by Dr. R. Chidambaram (Principal Scientific Advisor to Government of India), includes a citation and Rs. 200,000 reward. 
I am a Distinguished Lecturer of IEEE Electron Devices Society selected to speak in the area of Nanoelectronics and a recipient of 2008 IBM Faculty award in recognition of professional achievements (This is an internationally competitive award and nominations are initiated by someone within IBM). Delivered a number of invited lectures in conferences and workshops in India and abroad to large audiences on topics related to Nanoelectronics.
I am the Chairman, Governing Council, National Assessment and  Accreditation Council (NAAC) and Chairman, Governing Body of National Council of Science Museums (NCSM), Ministry of Culture, Government of India.
I am on the Board of Indian National Space Promotion and Authorization Center (IN-SPACe) established by Government of India.
I was a member of University Grants Commission (UGC) for three years (24 June 2016 to 23 June 2019). Also held the charge of Chairman, UGC from 14 January 2017 to 02 February 2017.
I was a member(PT) of Telecom Regulatory Authority of India (TRAI), which was established in 1997 by an act of Indian Parliament. (TRAI's mission is to create and nurture conditions for growth of telecommunications in the country in a manner and at a pace which will enable India to play a leading role in emerging global information society).
I was the Organizing Chairman of Graduate Aptitude Test in Engineering  ( GATE 2012 ) with  the overall responsibility of organizing the test across India in 860 centers spread over 170 cities/towns. About 800,000 candidates appeared in GATE 2012. GATE results are used for Post-graduate admissions in engineering and for job recruitment. In 2011, I was the Organizing Chairman for Joint Management Entrance Test (JMET 2011). I was the Chairman of GATE 2011 and Vice-Chairman of GATE 2010 at IIT Delhi.  
I was also the Chairman for JAM 2011 and JAM 2012 (Joint Admission Test to M.Sc) and Vice-Chairman of JAM 2010 at IIT Delhi.
In 2007 and 2008, I was the Vice-Chairman of Joint Entrance Examination (JEE) at IIT Delhi conducted by IITs for undergraduate program admissions in all IITs.   
____________________________________________________________________________________________________________
To lead a happy life, it is important to have a happy family and the following are responsible for it. I met my wife Lakshmi in 1989 and got married to her in 1990. She has an MBA in Marketing. However, she has preferred to be the Manager of our home rather than do a conventional job. We have two sons – Saketh  and Karthik.  Saketh has won a Gold medal in Delhi state karate championship competition. He plays guitar pretty well and is part of a Delhi based band called Crystal Fire. Saketh is doing his PhD in Nanoelectronics.  Karthik has learnt Hindustani vocal and is proficient in playing Guitar. He has also won a Gold medal in Delhi state Karate championship competition in December 2011. Karthik is now doing his Master's degree in Nanoelectronics. My parents are M. Ranga Rao and Jayaprada Devi.  My father had retired in 1994 as a primary school teacher. My native place Mamidala is a small village where people know each other. My sister Sunita lives in Nalgonda and the other sister Gita lives in Hyderabad.
I regularly practice Shito-Ryu Karate  and go to a gym.  
____________________________________________________________________________________________________________
I like the following sayings:
"If you lead your life the right way, the karma will take care of itself; the dreams will come to you."
             —  Prof. Randy Pausch  of CMU who is highly acclaimed for his last lecture and has died of  pancreatic cancer at 47 (on 25 July 2008).
When an idea exclusively occupies the mind, it is transformed into an actual physical or mental state. ______ Swami Vivekananda
Life is unfair. Sensible persons take what they get and find a way to work around it. They don't sulk in a corner. ——–Zhu Rongji (Chinese Premier)
To speak ill of others is a dishonest way of praising ourselves … let us be above such transparent egotism. — Will Durant
One should realize that ideas are never new. However brilliant, every idea is always based on previous knowledge… —Andre K. Geim (2010 Nobel Prize winner for Physics on Graphene)
You too can positively impact our world. Be assured, it won't be easy, and fame may never come your way, but the satisfaction gained from a life of creative work will be immense. —- Lynn Conway; author (together with Mead) of the book – Introduction to VLSI Systems.
---
In conversation with Rahul Kanwal of India Today in his first interview after the violence inside the Jawaharlal Nehru University. He said that police did arrive when they were contacted and added that on Saturday 10-12 students came with their faces covered and took control of the data centre. Click here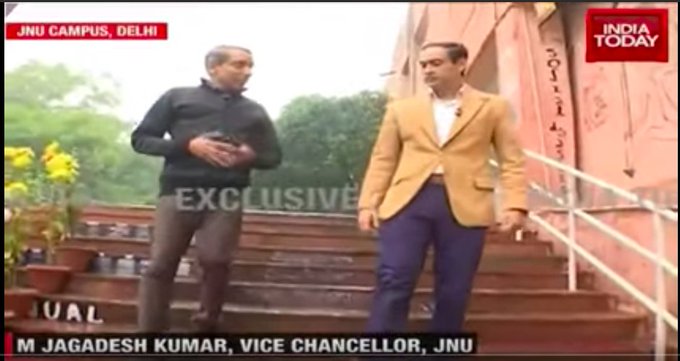 DD NEWS:
Seedha Samvad- Special Interaction with M. Jagadesh Kumar, Vice Chancellor JNU
https://www.youtube.com/watch?v=PRX6ADkJfTc
You can also download a pdf file of this article